Match has announced the launch of 72 Hours, a new feature designed to give date-ready members an opportunity to meet other serious singles in real life sooner. We believe that three days can change everything and this new timed experience helps those who are committed to finding a relationship start meaningful conversations, while avoiding the endless game of messaging and churning through options.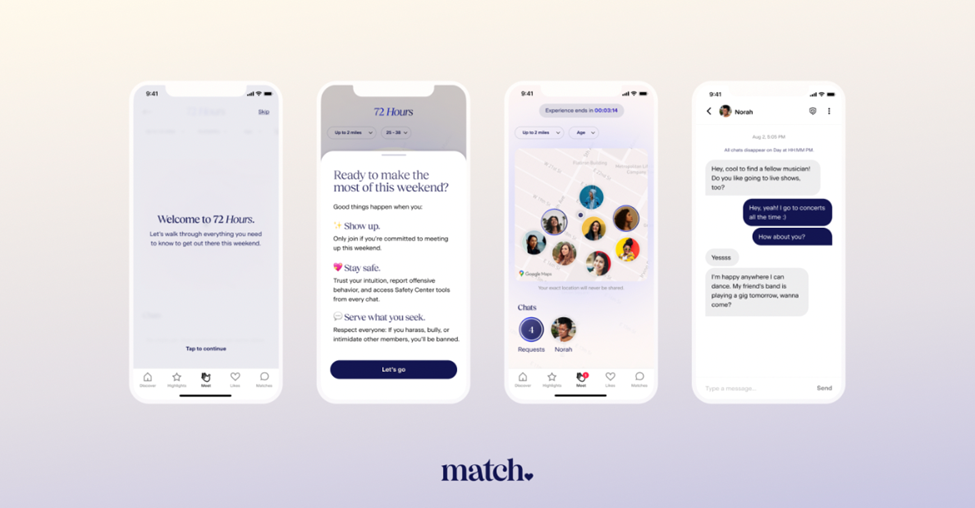 72 Hours is designed to combat this problem of browsing burnout caused by matches that don't lead to meaningful conversations by showing people nearby who are ready to meet ahead of the weekend.
Date-ready members can sign up each week from Monday through Thursday, before the live in-app experience begins on Thursday at 4 p.m. local time and ends on Sunday at midnight local time. Once the experience starts, member profiles will appear on a map, providing participants the ability to look at nearby profiles based on location and send a message. This map-first design shows other members with the same intentions and dating mindset to connect and start a conversation. Members can also expand the participant pool by age and location, and there will be no more than 15 people on the map at any given time to make options less overwhelming.
72 Hours is designed to prevent people from having conversations that never leave the app and fizzle out. If the clock strikes 12 and you haven't arranged an in-person meetup or exchanged phone numbers, your chat will then cease to exist.
There will be a timer that counts down to the end of the experience when chats will disappear and you can opt into the following week's experience if interested.